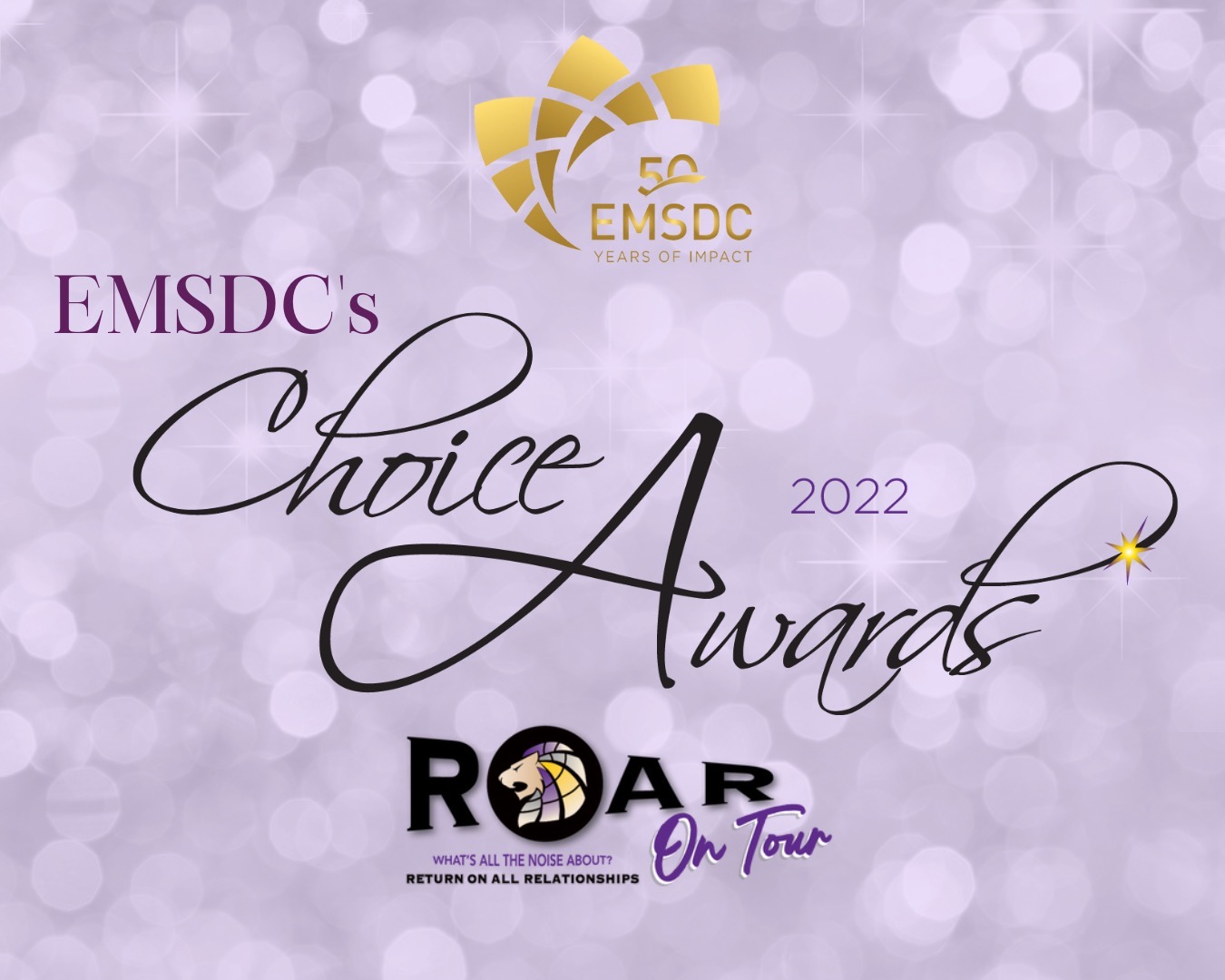 EMSDC Choice Awards 2022
The Eastern Minority Supplier Development Council (EMSDC) is excited to announce the 2022 Choice Awards! This year's event will take place on December 1st, from 6-9PM, at the Museum of the American Revolution in Philadelphia.
About the Choice Awards
The Choice Awards honors enterprising minority entrepreneurs who fuel the region's economy, community leaders who are staunch advocates for diversity and inclusion, and corporations who value the innovative solutions diverse businesses bring to their supply chains. The 2022 theme is "Moments in History," continuing our celebration of 50 years of impact. This year's Choice Awards serves as a reflection of what the Council and its network has accomplished over the past half century and a benchmark for change moving forward.
"As the world around us goes through almost constant and unpredictable change, EMSDC chooses to take a special moment to pause and reflect," said EMSDC President/CEO, Brian K. Oglesby. "The Choice Awards gives us an opportunity to celebrate the successes of our corporate members, minority businesses, organizations, individuals, and their total contributions to supplier diversity. These awards not only reflect what we've accomplished, but also serve to set the bar to where we aspire and need to be in our collective future. Join us in our celebration of our impactful past, influential present, and the future which will see us seize the days."
Throughout 2022, members and partners across the region casted their nominations for the best-in-class MBEs and corporate members. These companies were nominated for their impact in a variety of categories, including:
● Corporation of the Year
● Supplier of the Year
● Paving the Way Award
● Phoenix Award
● President's Award
● Corporate Advocate
● MBE Advocate
Congratulations to the 2022 nominees, including:
CORPORATION OF THE YEAR
AmeriHealth Caritas
American Water
AON
Aramark
Comcast
Duquesne Light
Exelon
Independence Blue Cross (IBX)
Philadelphia Gas Works (PGW)
University of Pittsburgh Medical Center (UPMC)
Verizon
SUPPLIER OF THE YEAR
Big Boize BBQ LLC
Cameron & Associates 8 LLC
CI Solutions LLC
Computer Enterprises Inc
Gourmail Inc.
JPI Group
Krisp Drinks LLC
Mastech Infotrellis
Mendoza Group
Patti's Good Life
Pinnacle Group
Pretzel Perfection
SnackEVER
The Fishin' Company
Yes Dear
CORPORATE ADVOCATE
Cameil Williams (University of Pittsburgh Medical Center (UPMC)
George Robinson II (University of Pittsburgh Medical Center (UPMC)
Chuck Stefanosky (Independence Blue Cross (IBX)
Sharon Manker (AmeriHealth Caritas)
Paula Castleberry (PITT Public schools)
Debra Quade (Kelloggs)
Chris Sheipe (Giant)
How to Get Tickets
Come together to raise the roof and salute the power of diversity and inclusion! Tickets for the Choice Awards start at $225 and can be purchased here. If you register by November 17th, you will save $50 on each ticket during our early bird sale! Sponsorship opportunities are also available and must be reserved by November 17th for guaranteed inclusion in printed materials.
---
The Eastern Minority Supplier Development Council (EMSDC), a 501(c) (3) non-profit organization, is an affiliate of the National Minority Supplier Development Council (NMSDC). We certify and connect minority-owned businesses (Asian, Black, Hispanic, and Native American) throughout Pennsylvania, Southern New Jersey, and Delaware with member corporations that want to purchase their products, services and solutions. Our mission is to stimulate and support the economic development of minority-owned businesses and to better align them with corporations in an effort to initiate growth and opportunity through Supplier Diversity channels.