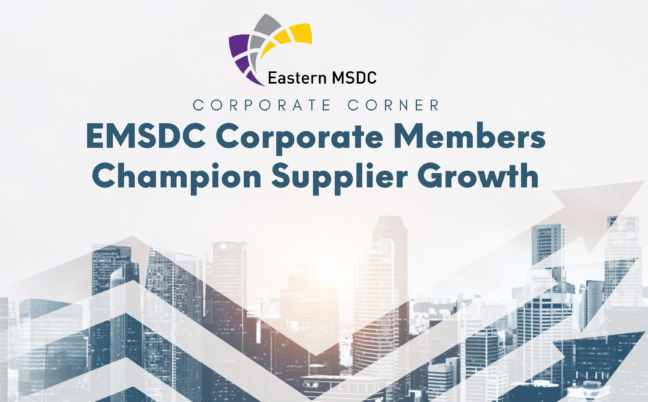 EMSDC Corporate Members Champion Supplier Growth
By: Tricina Cash, Executive Vice President of EMSDC
Our corporate membership of 100 local, regional and national corporations/institutions, and other organizations showcases how genuine commitments to business inclusion can become formidable agents of change. Through their collective effort and partnership with the Eastern Minority Supplier Development Council (EMSDC), they are not only advancing supplier development but also providing diverse businesses with invaluable opportunities. This is a testament to the transformative power of dedication and underscores the potential for a more prosperous future for all.
EMSDC: Pioneering Supplier Development
EMSDC, a leading corporate membership nonprofit, has embarked on a remarkable mission to promote the interests of MBEs and broaden their horizons to international trade. Their extensive network and expertise make them a pivotal player in the journey toward a more inclusive business ecosystem.
The Profitability of Inclusion
In the dynamic landscape of corporate commitments to supplier and business diversity, Duquesne Light Company stands as one of many dedicated corporate members of EMSDC. As a corporate membership nonprofit, the Council leads a visionary initiative aimed at empowering Minority Business Enterprises (MBEs) to explore international trade opportunities. Their collective effort has far-reaching implications for supplier development and economic growth.
Duquesne Light Company has emerged as a stalwart advocate for supply chain inclusion. Their commitment extends beyond mere words, translating into tangible actions that are driving both economic prosperity and shareholder earnings.
The Birth of the EMSDC Business Navigators Accelerator Program (BNAP) SWPA
In a transformative collaboration, Duquesne Light Company's Procurement and DEI divisions played a pivotal role in connecting EMSDC with the YWCA of Greater Pittsburgh. This partnership resulted in EMSDC securing funding to launch the Business Navigators Accelerator Program (BNAP) SWPA, also known as EMSDC Mosaic.
Mosaic: Nurturing Success
EMSDC Mosaic has emerged as a beacon of hope for minority and women-owned businesses in Allegheny County. It provides these businesses with the essential resources, knowledge, and tools required to thrive in a competitive business landscape.
Notably, EMSDC Mosaic has already made a tangible impact by providing financial support to several businesses, effectively breathing life into their operations and aspirations. Furthermore, a select group of these businesses from Allegheny County is now poised to represent our region and the United States of America at the MSDUK Conference in London—an extraordinary achievement that underscores the potency of MBEs and WBEs contributing to the US GDP as they forge trade relations abroad. The full delegation includes MWBEs from across the US and Aboriginal and minority-owned businesses certified by the Canadian Aboriginal and Minority Supplier Council.
The Expanding Influence

What makes this narrative truly compelling is the influence it has generated. Duquesne Light Company, as a dedicated local corporate member of EMSDC, has played a significant role in shaping the supplier development landscape. Their collaboration with EMSDC, and the subsequent support of initiatives like Mosaic, fortifies a chain reaction which is illuminating pathways for countless entrepreneurs.
---
The mission of the Eastern Minority Supplier Development Council (EMSDC) is to stimulate and support economic development with minority-owned businesses throughout Pennsylvania, Southern New Jersey, and Delaware, in an effort to initiate growth and opportunity through Supplier Diversity channels. As an affiliate of the National Minority Supplier Development Council (NMSDC), we certify and connect MBEs with member corporations that are committed to supplier development and want to purchase their products, services, and solutions.