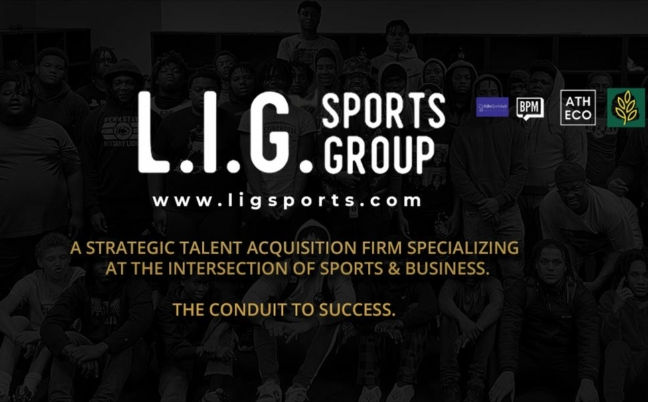 From Player to Business Mogul
From Player to Business Mogul: How L.I.G. Sports Group Is Helping Athletes Score Big in Life Beyond Sports
L.I.G. Sports is a full-service sports management agency that has been making waves in the industry since its inception. Founded by a team of sports business experts, L.I.G. Sports provides various services to athletes, teams, and businesses looking to excel in the sports industry.
The agency's three main pillars of services are Career/Player Development, NiL Branding & Consulting, and Proactive Specialty Sourcing. As part of its player development program, L.I.G. Sports helps athletes capitalize on their sports career and use it as a catalyst to achieve their long-term career goals. The team provides players with the direction they need to use sports as a platform for their career goals, including networking and industry knowledge. They also connect talent with business partners that can help them excel in their chosen pursuits.
L.I.G. Sports' NiL Brand Consulting is a unique approach to solving branding problems in the new NIL space. Their experienced consultants take a strategy-led approach to identifying scalable assets and helping brands thrive. The team deeply understands the NIL ecosystem and can help clients navigate the often complex landscape of brand strategy and development. They are committed to helping their clients achieve their business objectives and realize their full potential in the NIL market.
In addition to its player development and brand consulting services, L.I.G. Sports offers proactive and innovative talent acquisition and specialty sourcing services. They help businesses find, attract and retain the best talent by providing comprehensive evaluations of candidates based on industry standards and expected outcomes.
L.I.G. Sports has worked with high-profile clients and EMSDC Corporate Members such as the Pittsburgh Pirates, Penn State University, Koppers, and the Pittsburgh Penguins. The agency's success is rooted in its team's extensive knowledge of the sports industry and its commitment to providing tailored services that meet each client's unique needs.
What sets L.I.G. Sports apart from other agencies is its dedication to promoting diversity and inclusiveness in the sports industry. The agency is a part of the EMSDC Sports Engagement Initiative, which helps minority-owned businesses reach their full potential and succeed in the marketplace. Through this initiative, EMSDC and L.I.G. Sports are helping to drive positive change in the sports industry by encouraging professional sports teams to invest in and grow minority-owned businesses. By doing so, these teams can give back to their communities and help drive economic growth.
At L.I.G. Sports, the team is passionate about its work and impact on the sports industry. They are committed to providing personalized services that help their clients succeed in the competitive landscape of sports and business. If you're an athlete, team, or business looking to excel in the sports industry, L.I.G. Sports is the agency for you.
To learn more about L.I.G., contact Justin King, Founder jking@ligsports.com (412) 848-9956 www.ligsports.com
For organizations interested in the EMSDC's Sports Engagement Initiative partnership, contact Tricina Cash at tcash@emsdc.org