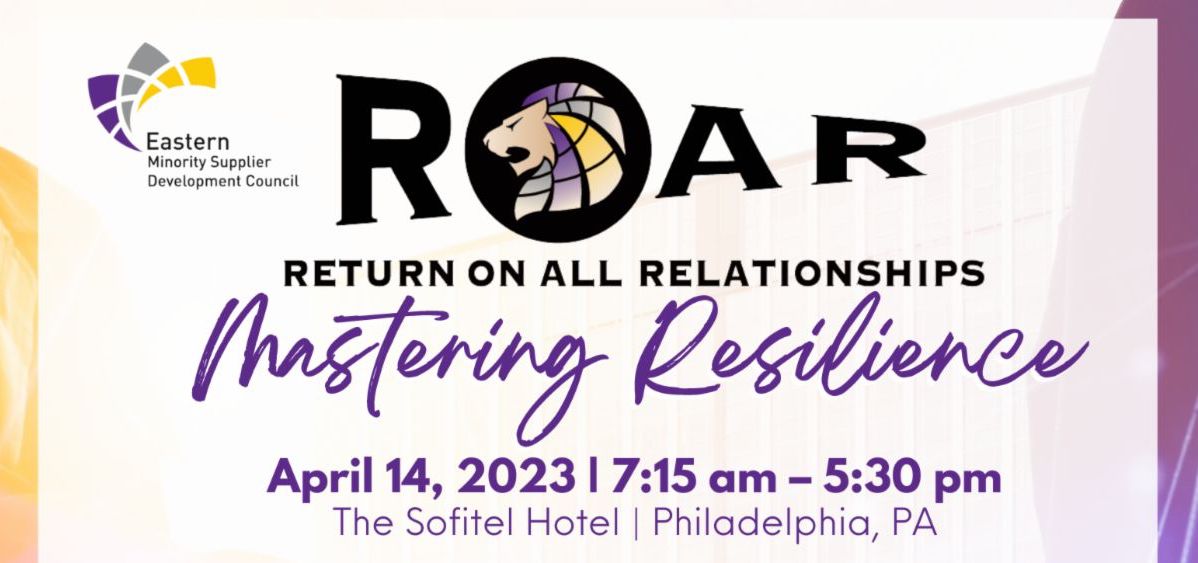 Mastering Resilience: EMSDC ROAR Conference & Matchmaker 2023
It's that time again… time for the annual EMSDC "Return On All Relationships" (ROAR) Conference and Matchmaker event! This year's theme will explore the art of "Mastering Resilience" and will take place at the Sofitel Hotel in Philadelphia, PA. Join us on April 14th, 2023 from 7:15AM to 5:30PM to discover innovative strategies for developing, maintaining, and expanding your business amidst economic hurdles, including a dynamic lineup of speakers, plenary sessions, roundtable discussions, and curated workshop tracks. Featured topics include growth and recession proofing, international trade, implementation and the importance of ESG, and more! Mori Taheripour will serve as this year's kick-off keynote speaker on the topic, "Bring Yourself: A Strategic Framework to Negotiate Fearlessly."
Corporate Roundtables
Do you want to be in the room where it happens? Corporate Roundtable forums take place in a group setting, allowing corporate representatives to meet with up to seven suppliers at once to share information about their respective companies and supplier diversity initiatives.
Buyers will have the chance to to discuss current and upcoming opportunities, how to enter the supply chain, and learn about the services various suppliers provide. Suppliers will have the opportunity to meet face-to-face with corporate reps to introduce your company, make connections, and get one step closer to building highly valuable relationships. Suppliers can also benefit from the peer-to-peer synergy of this group setting.
Roundtable discussions are a great way to give suppliers the opportunity to find out how to do business with Corporate America, but space is limited. To register, visit emsdcROAR.org.
Sponsors
Sponsors for the 2023 ROAR Conference and Matchmaker include E&E Technical Consultants, CDI Printing, Parx Casino, PNC, Comcast, PECO, Eventdex, LaFata Contract Services, Rivers Casino, SJI, Highmark, Independence, Soul Pitt Media, PEPCO Holdings, Zones, and LSInextGen. Click here for more information on sponsorship.
Registration
EMSDC's ROAR Conference & Matchmaker is dedicated to connecting diverse suppliers with private, public, and government buying institutions and presents an exceptional occasion for learning, dialogue, and forging valuable connections. Don't miss out on an incredible opportunity to enhance your knowledge, network with peers, and achieve greater success in the face of challenges. This highly anticipated event is just a few days away, so don't wait! Visit emsdcROAR.org to learn more or to register today!
---
The Eastern Minority Supplier Development Council (EMSDC), a 501(c) (3) non-profit organization, is an affiliate of the National Minority Supplier Development Council (NMSDC). We certify and connect minority-owned businesses (Asian, Black, Hispanic, and Native American) throughout Pennsylvania, Southern New Jersey, and Delaware with member corporations that want to purchase their products, services and solutions. Our mission is to stimulate and support the economic development of minority-owned businesses and to better align them with corporations in an effort to initiate growth and opportunity through Supplier Diversity channels.