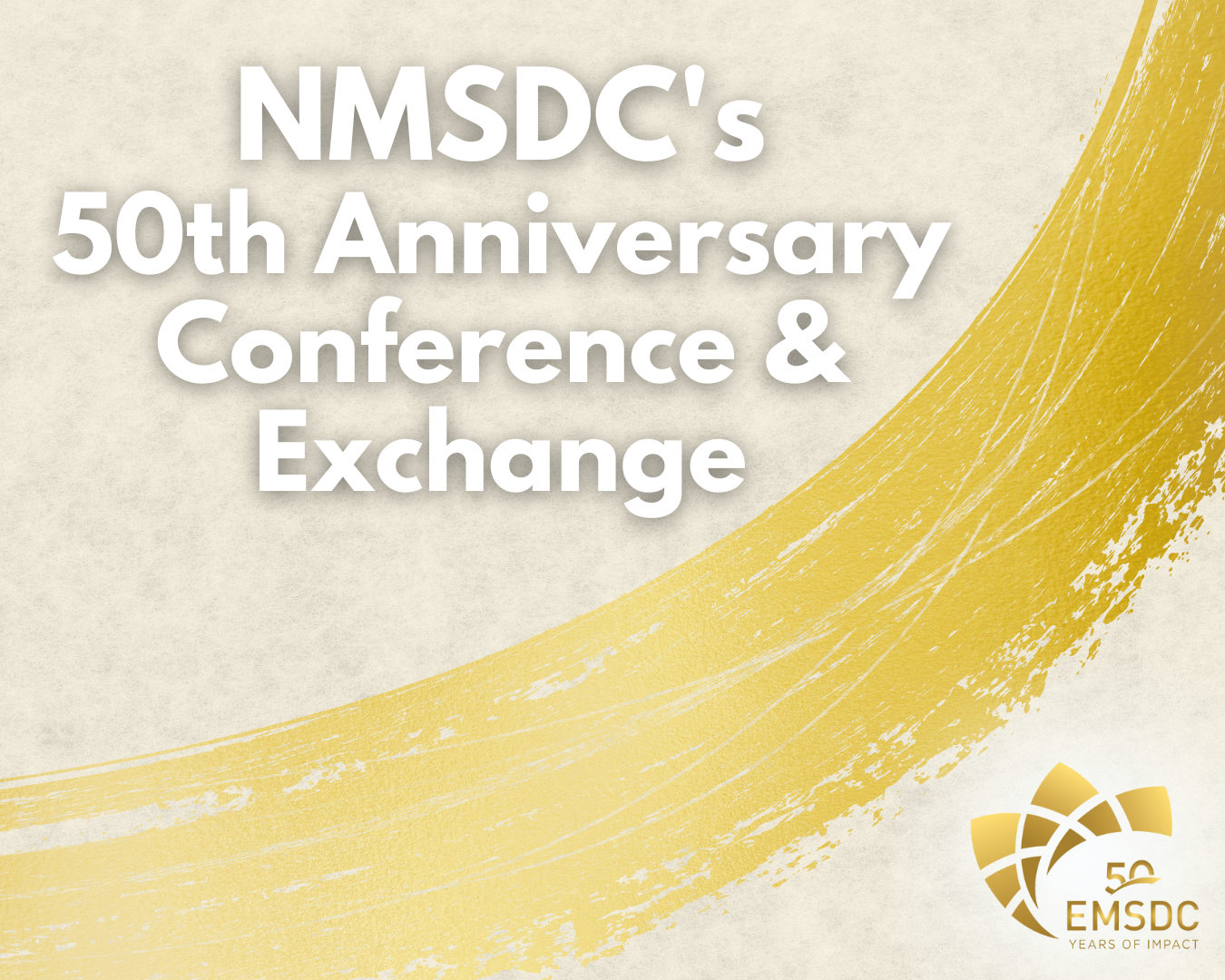 NMSDC 50th Anniversary Conference & Exchange
The National Minority Supplier Development Council (NMSDC) has 23 regional affiliates across the country with more than 1,750 corporate members. The Eastern Minority Supplier Development Council (EMSDC) is one such affiliate, serving Pennsylvania, Southern New Jersey, and Delaware. Like us, NMSDC is celebrating an incredible milestone this year — and we would like to take a moment to say, "Happy 50th anniversary NMSDC!"
We would also like to tell you a little more about the upcoming NMSDC 50th Anniversary Conference & Exchange. This four-day event will take place in New Orleans from October 30 to November 2, 2022, with an amazing list of featured speakers across a wide array of professional industries and government organizations. Click
here
to learn more and to see the agenda.
Highlights include the Expanding Beyond Our Borders Pre-Conference Program, matchmaking and keynote sessions, impact labs and workshops, exhibits, and a farewell celebration honoring the outstanding achievements of member corporations, suppliers, MBEs, and champions in the field of minority business development.
There will also be a 50th Anniversary Concert at Champion Square starring Sheila E. and Bell Biv Devoe, with access to exclusive lounge views at Club 44. And since there's no place like NOLA on All Hallows' Eve, attendees can catch the famous Thriller flash mob, visit some of the scariest haunted houses and cemeteries in America, or take a creepy carriage tour through the French Quarter.
Click here
to see the full lineup of events for this year's Conference & Exchange.
It's time to disrupt our own status quo. 
When describing the theme of this year's event, this is what
NMSDC
has to say:
We have arrived at a moment of pure potential, when everything is on the table. And as we gather together in person for our first hybrid national conference in two years, we are seizing this moment to reimagine the NMSDC Conference & Exchange as you know it.
It's time for a new way of doing things — a collaborative, inclusive way, befitting our mission and ethos. So we're turning to you and your unique insights, goals, and POV to help guide content selection, drive discussion across expertise and organizational boundaries, and chart the course for our next 50 years. If ever there was a time to show up, speak up, and step up, this is it.
Join us live in New Orleans for the NMSDC 50th Anniversary Conference & Exchange.
Four days in New Orleans turning ideas into action. 
50 years of building momentum for economic equity. 
$1 trillion impact in our sights.
In just five decades, NMSDC has made unprecedented strides, building a membership of 1,500+ corporate leaders, certifying over 15,000 MBEs, and helping them grow their annual economic output to $400 billion. Now, as we look back with pride from this pivotal point in history, we have the perspective to see that where we've been is nothing compared to where we're going.
So let's celebrate our successes. Let's harness the energy of the last two years and the momentum of our first 50. And let's use it to propel us boldly forward on the road to economic equity and $1 trillion in annual MBE revenues. We have a half-century of progress on our backs. And nothing but wide-open possibilities ahead.
To learn more about the 50th Anniversary Conference & Exchange or to register, click here!
Here is a special shout-out to our EMSDC members.
Recently, NMSDC posted two lists of their Top 50 MBEs and Corporations across the nation, and we are thrilled to report some of our EMSDC members were included!
The Eastern Minority Supplier Development Council (EMSDC), a 501(c) (3) non-profit organization, is an affiliate of the National Minority Supplier Development Council (NMSDC). We certify and connect minority-owned businesses (Asian, Black, Hispanic, and Native American) throughout Pennsylvania, Southern New Jersey, and Delaware with member corporations that want to purchase their products, services and solutions. Our mission is to stimulate and support the economic development of minority-owned businesses and to better align them with corporations in an effort to initiate growth and opportunity through Supplier Diversity channels.