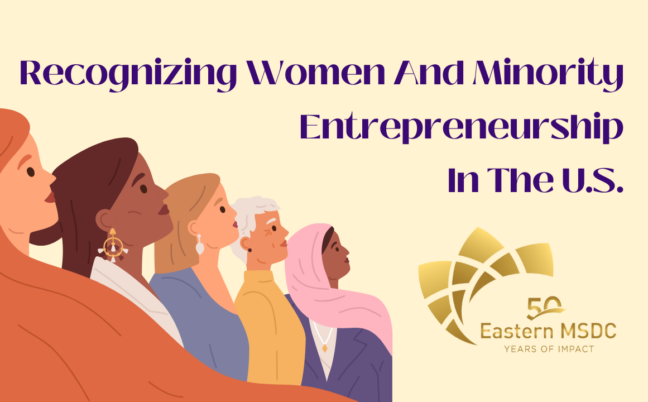 Recognizing Women And Minority Entrepreneurship In The US
Women-owned businesses have been the fastest-growing segment in the US economy for over two decades. Recent data from the United States Census Bureau shows that 1.2 million businesses are currently owned by women, and since the start of the pandemic, there has been a rapid increase in numbers-driven by women of color. In celebration of Women's History Month, the Eastern Minority Supplier Development Council (EMSDC) would like to take a moment to recognize the professional accomplishments of minority women in our country by sharing a few stats that are impossible to ignore.
[
space
]
These statistics are astounding and show the critical role minority women play in fueling the US economy, from creating jobs and generating revenue, to strengthening communities and stimulating growth. Minority business enterprises on the whole employ 8.7 million people and bring $1.3 trillion in total annual receipts, and as the fastest-growing group of entrepreneurs in our country, women of color are proving to be a powerful economic force. But there is still a long way to go.
[
space
]
---
[
space
]
The Eastern Minority Supplier Development Council (EMSDC), a 501(c) (3) non-profit organization, is an affiliate of the National Minority Supplier Development Council (NMSDC). We certify and connect minority-owned businesses (Asian, Black, Hispanic, and Native American) throughout Pennsylvania, Southern New Jersey, and Delaware with member corporations that want to purchase their products, services, and solutions. Our mission is to stimulate and support the economic development of minority-owned businesses and to better align them with corporations in an effort to initiate growth and opportunity through Supplier Diversity channels.