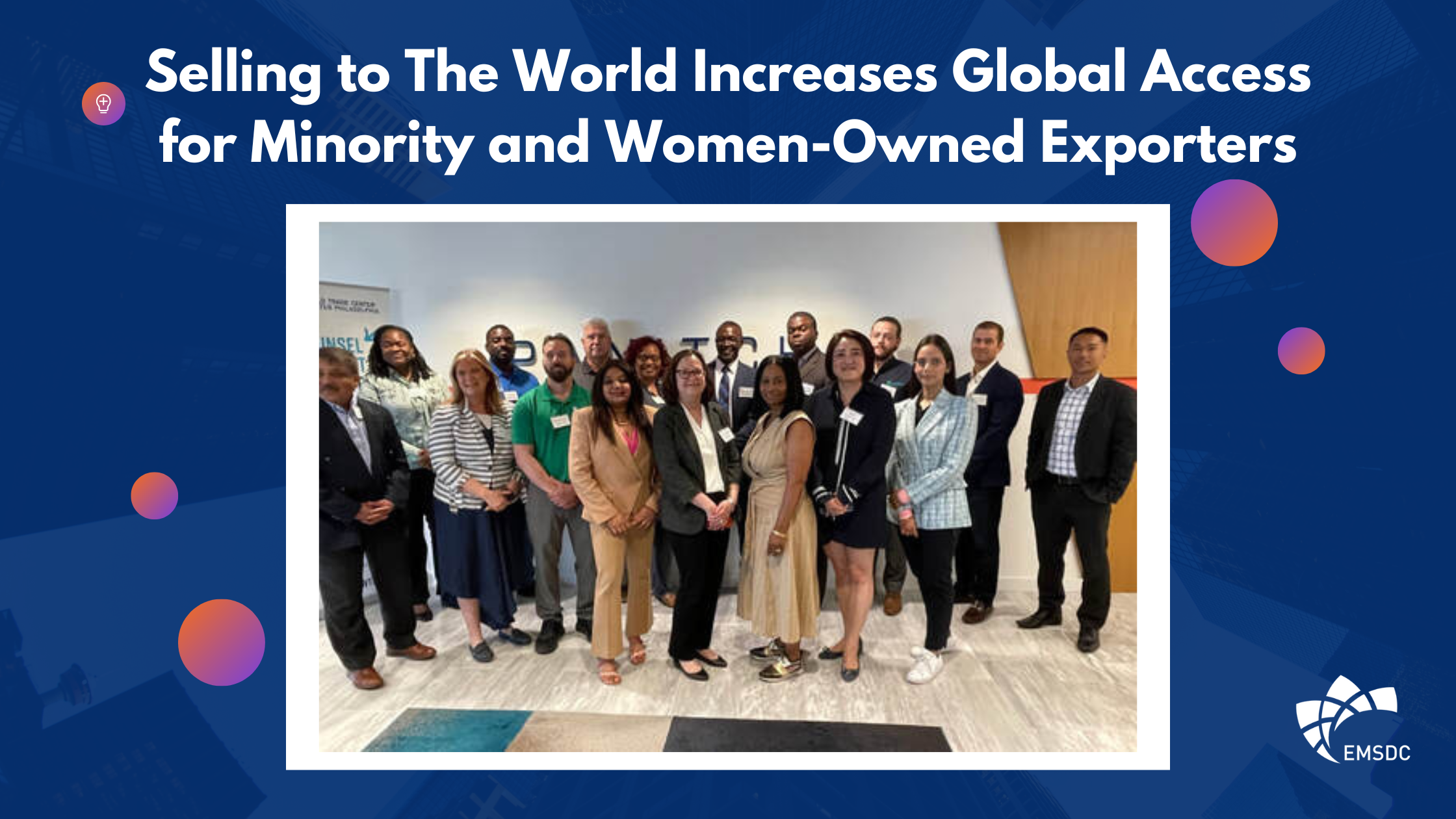 Selling to The World Increases Global Access for Minority and Women-Owned Exporters
On June 2, 2023, ​The World Trade Center of Greater Philadelphia (WTCGP) completed its first Export Training Program for Small Businesses, with 18 participants from the Delaware Valley area. As part of its "Selling to the World" initiative, this series of three one-day sessions was designed to help grow small and medium-sized enterprises (SMEs) and increase global access and opportunities for minority and women-owned businesses. Entrepreneurs and executives in the inaugural cohort included both established and new exporters, and each gained valuable supplier diversity training to enable their companies to enter the supply chains of multinational corporations abroad. Classes included presentations by experts in the field, with topics ranging from how to develop an export strategy, find qualified buyers, navigate logistics and shipping, and learn about export finance, to international business culture and etiquette, and more.
In addition to gaining exporting knowledge and technical expertise to market, sell, and ship to international buyers, each participating company received a one year WTCGP membership, complimentary admission to the annual Global Business Conference, mentorship, and a dedicated international trade specialist for continued one-on-one counseling. Companies registered in Pennsylvania also received access to the PA Office of International Business Development (OIBD) services through the WTCGP (a Regional Export Network partner). After the final class, a celebratory cocktail reception was held. Each company received a certificate of completion presented by Ron Drozd, WTCGP Director, Export Programs and Services, and Tony Simonetta, WTCGP Interim President. The Export Training Program was led by Drozd, with the assistance of the WTCGP team and Beth Pomper, Director of International Business for Delaware.
According to WTCGP, "Increasing the capacity to trade strengthens the overall competitiveness of these businesses, both as exporters and as reliable and resilient suppliers to corporations. According to the U.S. Department of Commerce, SME exporters grow faster, enjoy higher productivity, pay higher wages, and become more innovative two years after starting to export.  Exporting allows these businesses to diversify their client base and expand profitability — 95% of the world's consumers and 84% of spending power reside outside of the United States."
The development of the Export Training Program was supported by the Eastern Minority Supplier Development Council (EMSDC), Women's Business Enterprise Center (WBEC) East, and the newly-launched WTCGP Global Diversity Advisory Council (GDAC), distinguished leaders who are dedicated to advancing economic growth opportunities for minority and women-owned business enterprises. Brian Oglesby, GDAC Co-Chair and Interim President and CEO at EMSDC, noted that, "The GDAC serves as a bridge to the marketplace and convener of partners in an ever-shrinking world to elevate minority businesses who have traditionally been shut out of the market."
We congratulate the graduates of this exciting new program. Be sure to follow us on Facebook, LinkedIn, and Twitter!
---
The mission of the Eastern Minority Supplier Development Council (EMSDC) is to stimulate and support economic development with minority-owned businesses throughout Pennsylvania, Southern New Jersey, and Delaware, in an effort to initiate growth and opportunity through Supplier Diversity channels. As an affiliate of the National Minority Supplier Development Council (NMSDC), we certify and connect MBEs with member corporations that are committed to supplier development and want to purchase their products, services, and solutions.