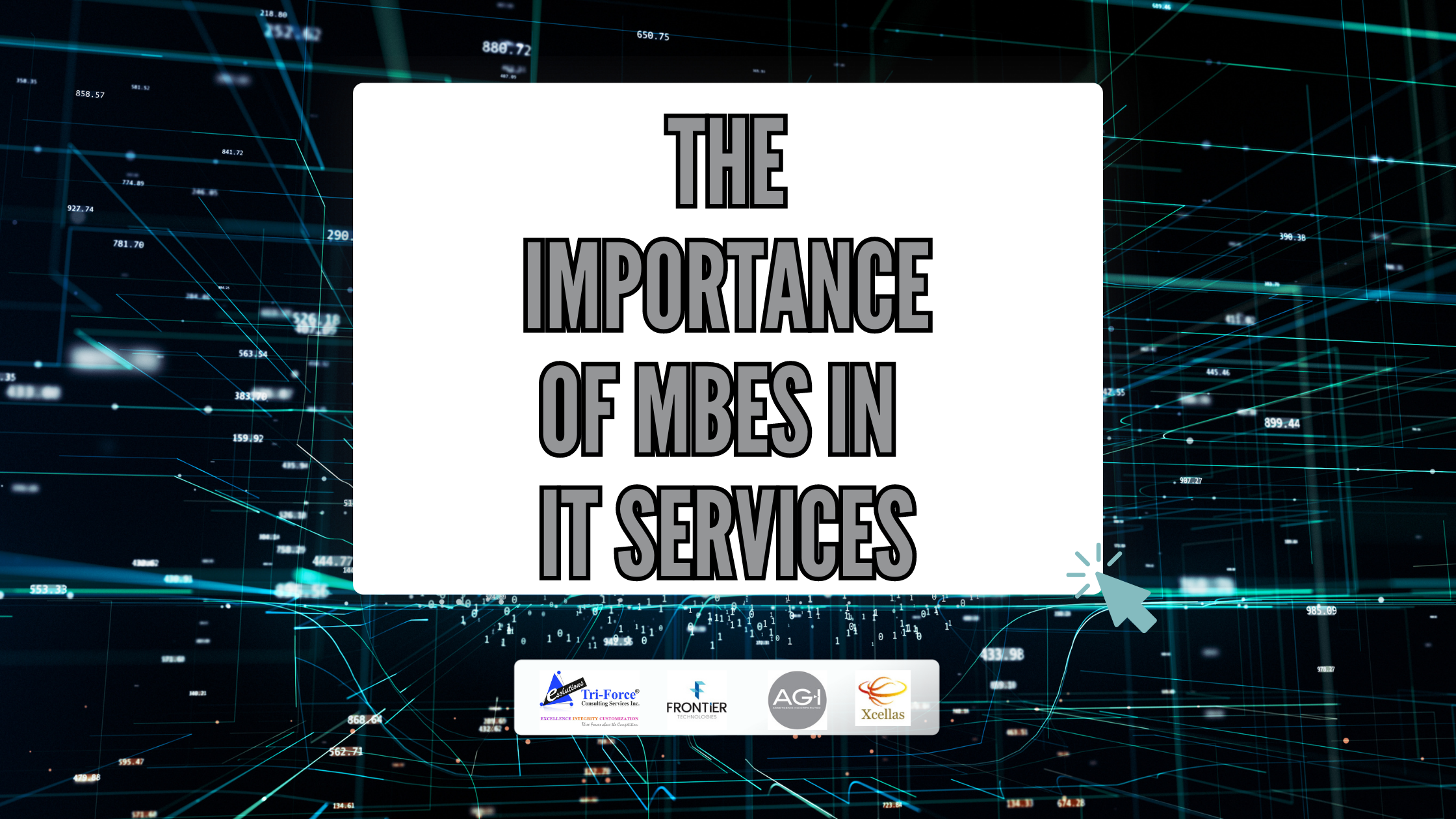 The Importance of MBEs in IT Services
The US Government's Minority Business Development Agency reports that there are 5.8 million minority-owned firms in the US today, contributing $1 trillion in economic output and 5.8 million jobs per year. A total of 10% of these MBEs (Asian American, Black, Hispanic, Native Hawaiian and Pacific Islander, and Native American) fall under the Professional, Scientific, and Tech umbrella. And according to recent data from the United States Census Bureau on minority business ownership, "Professional, Scientific, and Technical Services" is the second largest sector of Black-owned businesses in the country. These businesses are contributing greatly to our country, not only in terms of generating jobs and revenue, but also in providing a valuable service. 
Indeed states that Information Technology (IT) Services "allow businesses to access the technical tools and information they use for their operational processes and daily tasks."  
While it may sound simple by definition, this vital field requires a high level of technical skill, expertise, and experience to be successful. As such, the Eastern Minority Supplier Development Council (EMSDC) is proud to shine a spotlight on four of our incredible suppliers that specialize in IT Services.
Xcellas, LLC, Langhorne, Pennsylvania 
Xcellas is a professional consulting firm headquartered in Langhorne, PA. Founded in 2013 with a focus on advisory services and government, regulatory, and compliance services, this minority-owned business provides a full range of IT assistance, from consulting assessment and requirements, to project management solution strategies, implementation, and optimization. Owner, CEO and VP of Sales, Maria Alvarez employs approximately 50 experienced team members, making Xcellas "small enough to provide the utmost attention" to its clients while also being able to "scale up to any demands." For more information about Xcellas, click here.
Tri-Force Consulting Services, Inc., Lansdale, Pennsylvania 
This award-winning software consulting firm has been serving both commercial and government sectors since 2000 and has been recognized as one of the fastest growing companies in the US. Led by Manish Gorawala, President and CEO, "Tri-Force specializes in providing innovative and cost-effective IT staffing (contract, contract-to-hire, full-time placement), software development (web and mobile apps), website design, systems integration, data analytics, systems automation, cybersecurity, project management, and cloud technology solutions."  Triforce was recently named a Top Inc 5000 and Top 50 Asian-American Business. Visit triforce-inc.com for more information.
Frontier Technologies, Inc., Wilmington, Delaware
For more than 30 years, Frontier Technologies, Inc. has been "helping clients protect their present information and build for their future technological needs by managing and maintaining their data across platforms, software, networks and the cloud." Under the leadership of Jayshree Moorthy, Founder and CFO, and Reshma Moorthy, President and CEO, this multi-generational, family-owned, women-owned small business and certified MBE leverages expertise in IT infrastructure and cybersecurity with disruptive technologies, like artificial intelligence, to drive innovation. Additional information can be found at ftiusa.com.
Asset Genie, Inc., Greensburg, Pennsylvania 
With over 20 years of experience and a wealth of corporate and school district partnerships, Asset Genie, also known as AGI Group, is a recognized leader in mobile device parts and repair, digital learning support, reverse logistics, and LCD enhancements. Led by Jaime Hidalgo, President, this IT company employs over 100 highly trained technicians and has a 125,000 square foot facility in Greensburg that serves as its Pennsylvania Corporate headquarters. For more information, visit their website at agigrouponline.com or find them on LinkedIn.
This is just a sample of our many certified IT Suppliers and MBEs across all industries. To learn more about the Eastern Minority Supplier Development Council, visit our website at emsdc.org.
---
The mission of the Eastern Minority Supplier Development Council (EMSDC) is to stimulate and support economic development with minority-owned businesses throughout Pennsylvania, Southern New Jersey, and Delaware, in an effort to initiate growth and opportunity through Supplier Diversity channels. As an affiliate of the National Minority Supplier Development Council (NMSDC), we certify and connect MBEs with member corporations that are committed to supplier development and want to purchase their products, services, and solutions.