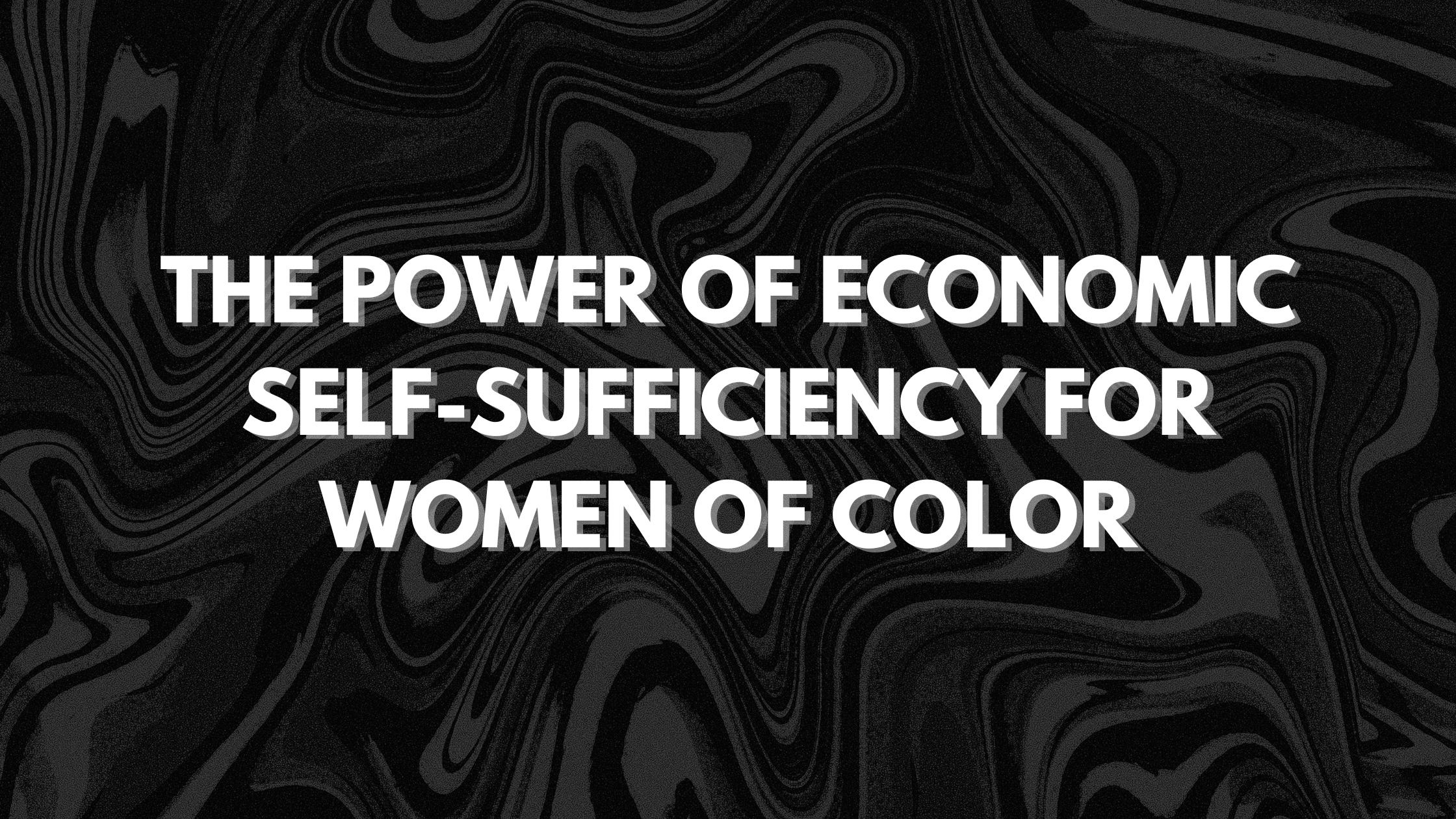 The Power of Economic Self-Sufficiency for Women of Color
Women of color play a vital role in the US economy, controlling nearly half of all women-owned businesses in the United States. It is well known that women are generally paid less than men for the same work. In fact, women earned 84% of what men earned in 2020, according to a Pew Research Center analysis of median hourly earnings of both full- and part-time workers. Recognizing gender and racial pay gaps, worries about job security, and toxic work environments for women, and in particular, women of color, it's easy to see why entrepreneurship and economic self-sufficiency are attractive prospects.
The Power of Entrepreneurship
The power of entrepreneurship and economic self-sufficiency for women of color is undeniable. If you don't believe us, just look at these incredible stats:
"Women of color employ 2.4 million people and generate $422.5 billion in revenue (23% of total women-owned businesses' revenue of $1.4 trillion)." (Fortune 2020).
"Black women are the fastest growing demographic of entrepreneurs in the US, with nearly 2.7 million businesses nationwide." (J.P. Morgan Wealth Management 2021).
"Native Hawaiian/Pacific Islander (41%), Latina/Hispanic (40%), Asian American (37%) and Native American/Alaska Native (26%) businesses grew at a slower rate than women of color overall but faster than women-owned businesses and businesses in general." (Forbes 2022).
Looking beyond the statistics, entrepreneurship provides flexibility, the possibility for multiple streams of income, and for some, a sustainable way to balance both a career and motherhood.
Building Wealth for Future Generations
Entrepreneurship is not only a path to economic self sufficiency — it can also be the key to building wealth for future generations. Owning a business gives women of color an opportunity to grow their bank accounts on their own terms, as well as a means to generate unlimited income. This not only provides financial stability in the present, but also helps to create a lasting legacy down the road.
With over 50 years of experience as an industry expert in Minority-owned Business Enterprise (MBE) enrichment, development, and impact, EMSDC offers certified minority suppliers valuable resources to help their businesses grow and succeed. As an affiliate of the National Minority Supplier Development Council (NMSDC) serving Pennsylvania, Southern New Jersey, and Delaware, MBEs benefit from being certified with the largest national organization whose certification is uniformly recognized by Corporate America. For more information on the benefits of certification, click here, or visit our website at emsdc.org.
---
The Eastern Minority Supplier Development Council (EMSDC), a 501(c) (3) non-profit organization, is an affiliate of the National Minority Supplier Development Council (NMSDC). We certify and connect minority-owned businesses (Asian, Black, Hispanic, and Native American) throughout Pennsylvania, Southern New Jersey, and Delaware with member corporations that want to purchase their products, services and solutions. Our mission is to stimulate and support the economic development of minority-owned businesses and to better align them with corporations in an effort to initiate growth and opportunity through Supplier Diversity channels.