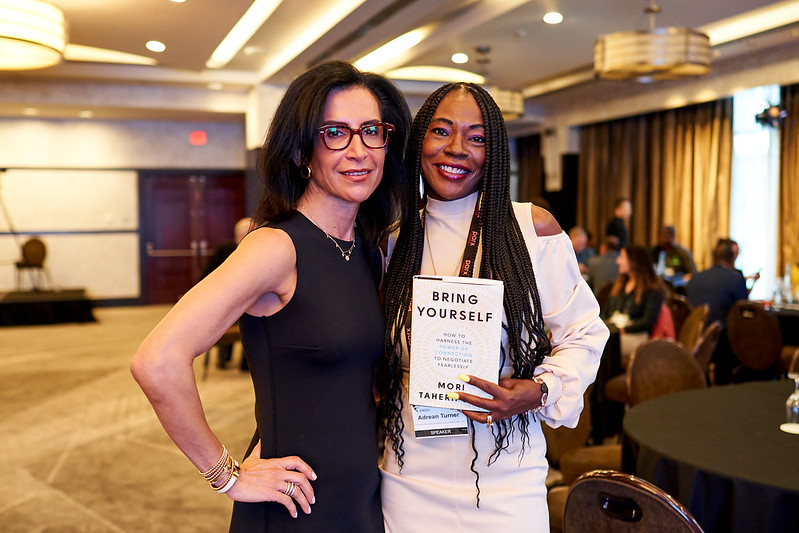 ROAR 2023 Keynote Speaker Teaches How to Negotiate Fearlessly
The EMSDC ROAR Conference 2023 took place on April 14th at the Sofitel Hotel in Philadelphia, PA. This year's Kick-off Keynote Speaker was Mori Taheripour, award-winning faculty member at the Wharton School, globally recognized negotiation expert, and celebrated author. Her talk, based upon her recent book, Bring Yourself: How to Harness the Power of Connection to Negotiate Fearlessly, provided valuable insight on the art of negotiation, alongside Moderator Adrean Turner of Turner Coaching, Training and Consulting LLC.
If you missed the ROAR Conference this year and the opportunity to hear Mori Taheripour speak on this important topic, here are a few takeaways.
"Unlike experts who focus on the tactics of competitive negotiating, Mori offers a radically different approach that starts with self-reflection and frames bargaining from the perspective of human connections." (Mori Taheripour).
Be mindful of your values and convictions.
When you know who you are, embrace what makes you unique. The key is to be authentic and mindful of your values and convictions. In negotiations and life, never pretend to be someone you are not.
There is power in being present.
Mori pointed out that we are a very distracted society. Studies have shown humans have an attention span of approximately 8 seconds, and 80% of our thoughts are negative. If you're focused, it's easier to notice nuances, emotions, and essential details. Successful negotiations require mindfulness and presence. Not only is this the ultimate level of respect for your counterpart, but you will also think more clearly and critically to make informed choices.
Empathy can lead to success in negotiations.
In business, people don't choose companies; they choose people. The way we treat people matters. Always be authentically interested in your counterpart. No matter how prepared you are, have the humility to know that there is always more to learn. There is power in understanding your counterpart's interests and what they value. Lead with empathy; it's your superpower! You can confidently advocate for your own needs without it being at the expense of others.
Great negotiators are phenomenal storytellers.
We must be aspirational in our goal-setting and be phenomenal storytellers. If you set high goals and ask for more, you will get more. When you make decisions and set goals with an abundant mindset, there are no limits to your success! Know your value and have faith in yourself. Don't frame your decision-making from a place of scarcity and fear.
To learn more about Mori Taheripour or to purchase her book, "Bring Yourself: How to Harness the Power of Connection to Negotiate Fearlessly," visit moritaheripour.com and also sign up for her newsletter. To learn more about the Eastern Minority Supplier Development Council, visit emsdc.org.
Bring Yourself: How to Harness the Power of Connection to Negotiate Fearlessly – Contrary to conventional wisdom about what makes a good negotiator – namely, being aggressive and unemotional – in Bring Yourself, Taheripour offers a radically different perspective. In her own life and nearly 20 years of experience teaching negotiation, she's found that the best negotiators are empathetic, curious, and present.
The essence of bargaining isn't the transaction but the conversation and human connection. We learn that when we bring our whole, authentic selves to the table, we can advocate for ourselves fearlessly and find creative solutions that benefit everyone. (Amazon)
---
The Eastern Minority Supplier Development Council (EMSDC), a 501(c) (3) non-profit organization, is an affiliate of the National Minority Supplier Development Council (NMSDC). We certify and connect minority-owned businesses (Asian, Black, Hispanic, and Native American) throughout Pennsylvania, Southern New Jersey, and Delaware with member corporations that want to purchase their products, services, and solutions. Our mission is to stimulate and support the economic development of minority-owned businesses and to better align them with corporations in an effort to initiate growth and opportunity through Supplier Diversity channels.